Benefit Plans Plus Promotes Carrie Patterson to Senior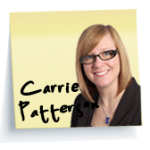 ST. LOUIS (September 22, 2010) As part of the long-term plan to strategically manage the growth and success of the firm, Benefit Plans Plus has promoted Carrie Patterson to Senior Retirement Plan Installation Specialist.
Patterson joined Benefit Plans Plus five years ago and is responsible for the set-up and installation of new retirement plan business. Patterson has been instrumental in the first impression that BPP has operationally with clients. She consistently receives rave reviews from our clients and vendors. She has more than ten years of experience in the employee retirement benefits area serving as a recordkeeper, pension clerk and pension administrator.
Patterson actively participates in BPP Ownership Thinking projects. She has helped improve efficiency and cut costs in many of BPP's core processes. She thrives when presented with challenges and enjoys solving problems. She is also an active member of Brown Smith Wallace's Social and Charitable Committee, acting as champion for the school supply drive each year.
Patterson resides in University City with her husband and pets.
About Benefit Plans Plus
Benefit Plans Plus, LLC offers customized retirement plan design and administration, fiduciary compliance management and consulting services for retirement plans. Through unique offerings including the Fiduciary Health Check™ and the SBO 401k BPP serves nearly 750 retirement plans throughout the Midwest. Benefit Plans Plus holds the Centre for Fiduciary Excellence, LLC (CEFEX) recordkeeper certification for third party administrator services and the American Society of Pension Professionals and Actuaries (ASPPA) seal of service for provider excellence — the top recognitions in the industry. BPP is a member of NIPA, ASPPA and ICEBS. In addition, the well credentialed team of retirement plan specialists averages at least 17 years of experience each. For more information about Benefit Plans Plus, a subsidiary of Brown Smith Wallace, LLC, visit www.bpp401k.com or call 314.824.5200.