Benefit Plans Plus Promotes Jason R. Oesterlei to Principal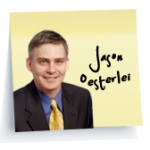 ST. LOUIS (August 15, 2010) As part of the long-term plan to strategically manage the growth and success of the firm, Benefit Plans Plus (BPP) has promoted Jason R. Oesterlei to Principal.
Since joining the firm Oesterlei has steadily progressed upward in the organization. Oesterlei has emerged as BPP's in-house technical compliance expert, the lead on technical plan correction projects and plan design strategy and production. Oesterlei's role as a Principal will include increased responsibility for personalized internal training, new business development and consulting projects.
In addition to servicing a limited case-load of our most complex custom designed retirement plans, he provides training and direction for seniors and supervisors to "run with" an assignment, but is not afraid to roll up his sleeves and dig into an area or situation that needs a little more attention. Oesterlei specializes in defined benefit, Cash Balance and advanced 401k plan design and technical corrections.
Oesterlei has more than 18 years of experience in the financial services industry, working in a variety of segments including brokerage, insurance and third party administration.
In addition to holding a Qualified 401(k) Plan Administrator (QKA) designation and a Qualified Pension Administrator (QPA) designation from the American Society of Pension Professionals & Actuaries, he has completed the Accredited Investment Fiduciary Analyst program (AIF)® through the Center for Fiduciary Studies.
A graduate of the University of Missouri-St. Louis, Jason holds a Bachelor of Science degree in Business Administration with an emphasis in finance. Oesterlei resides in St. Louis with his wife and two children.
About Benefit Plans Plus
Benefit Plans Plus holds the American Society of Pension Professionals and Actuaries (ASPPA) seal of recordkeeper excellence for third party administrators, as certified by the Centre for Fiduciary Excellence, LLC (CEFEX). This is the top recognition in the industry. Benefit Plans Plus specializes in retirement plan design and administration services, for 401k, 403b and pension plans under ERISA – Employee Retirement Income Security Act of 1974. We also specialize in technical corrections and fiduciary services consulting to fiduciaries of qualified retirement plans. We are a retirement employee benefits consulting firm that makes A Measurable Difference for our clients. Every member of our team is empowered and expected to deliver on our brand promise through their actions and interactions with clients, our referral sources and the community. For more information about Benefit Plans Plus, a subsidiary of Brown Smith Wallace, LLC, visit www.bpp401k.com or call 314.824.5200.